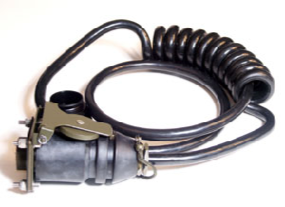 SB-ORD
Special Purpose Connectors (Aerospace and Defence)
Heavy Duty Nato/UK Mod Trailer Connectors, Fixed (with or without Rat Trap) and Free with Heavy moulded Body, Shell Size 28, -55°C to + 100°C, 5 to 92amps, 5 to 37 contacts.
Heavy Duty Trailer Connector
SB-ORD. Trailer connectors were designed for electrical coupling applications between military vehicles and towed trailers where rough handling, environmental sealing and ease of coupling is required.  Trailer connectors feature a heavy rubber moulded body with a brass inner shell, and offer 7 contact arrangements in shell size 28.

Accessories include protective caps, grommets, grommet nuts, and sealing gaskets.

A fully harnessed system as above is also available.