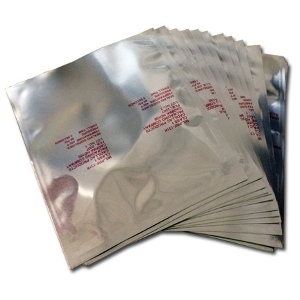 Available as Roll Stock, Tubing, Blankets, Covers, Shrouds, Bags and Pouches
Typical Materials
MIL-PRF-131K-Class I (Foil or Tyvek)
MIL-PRF-131K-Class II (Paper Foil)
MIL-B-131K-Class III (Scrim Foil)
MIL-PRF-121G-Type I (Poly Kraft)
MIL-PRF-121G-Type II (Poly Kraft)
MIL-PRF-22191-E-Type I (Aclar Poly)
MIL-PRF-22191-E-Type II (Poly Mylar)
MIL-PRF-22191-E-Type III (Polyethylene)
MIL-PRF-81705-E-Type I (ESD/EMI Opaque Static Shielding)
Typical Options
 Flat Bags
3-D Flat Bottom Bags
Crate & Carton Liners
Covers & Shrouds
Barrier Blankets / Tarps
Wide Width Roll Stock
Roll Stock
Kitting & Custom Packing
Heritage Packaging is a seasoned manufacturer and supplier of military specification protective packaging. We have a large inventory of Mil-Prf materials such as Film Foil, Poly Kraft, and ESD in stock to fulfill your bag, cover, and liner needs with rapid turnaround times. We also supply wide width roll stock material, tubing, and sheeting all manufactured from Mil-Prf certified materials. We have the capability to custom manufacture bags, blankets, and shrouds to any size and quantity.
Heritage Packaging is a registered contractor with the General Services Administration (GSA) Schedule 84.
Over the past 20 years, Heritage Packaging has been converting and supplying flexible Mil-Spec protective packaging as a prime contractor for the military, directly; and also as subcontractor for other prime contractors.
All products are produced in compliance with MIL-DTL-117 (formally known as MIL-B-117). Our quality program is based upon MIL-STD-1916 and MIL-STD-3010. MIL-PRF materials are also available that satisfy the WVTR established by MIL-STD-2073 Preservation Submethod 44.