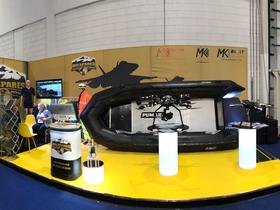 On Tuesday 12 September, the doors to the ExCel Centre opened to tens of thousands of people from around the world including Exhibitors, Military personnel, Politicians, Speakers, Invited guests, etc. Clarion Events brought the event to life by creating 'uniquely effective and stimulating environments' which helped all those companies exhibiting to enhance customer relationships and experiences.
The Milspares stand had a lot more to offer this time, including product ranges from the three MK Group companies together with Electra Charge.
The aim of the show was to exhibit our portfolio of products such as our impressive drones, a military inflatable assault boat, copper-fibre clothing, torches and other impressive stock. Brand awareness is drastically increased when exhibiting at 'The World's Leading Defence and Security Event'.
The event came to an end on Friday 15 September after a long but very successful week for us. We are continuing to speak to everyone we met at the show as we want to further enhance all those old and new relationships.
Please get in contact with us whichever way you feel is best for you.
+44 (0) 1296 485 481
Twitter: Milspares